Of Bread and Wine
Posted: 1/3/12 09:47 AM ET
With another loaf of Baker Bob's amazing bread in hand, I arrived at cowgirl Denise Morrison's home perched up high in the hills of Los Alamos, CA. During my stay I learned that Denise is the consummate turkey whisperer, which is a little disconcerting after we deep-fried a 20-pounder the day before. Every morning, on her way down to tend to her draft horses, a flock of wild turkeys range freely and eat right out of her hands. Their relationship is so unique that it seemed like they followed us as we rode through the countryside.
After riding, Denise took me down to a friend's cattle ranch where she had a surprise in store. She went right into action, showing this city girl a thing or two about corralling cattle. And I swear, I think those same turkeys followed us. Dr. Doolittle Denise just has that way about her.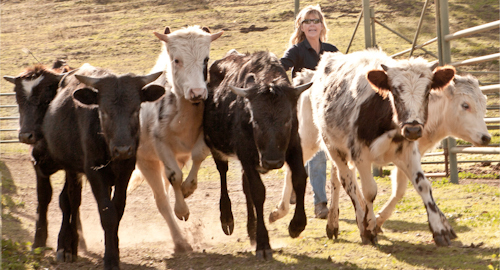 Across the road from Denise's ranch is a biodynamic winery. Martian Winery just harvested its first grapes. (It takes three years for new grapevines to fruit.) A spirited proprietor, Nan Heldgeland has nailed it. Every detail at her serene wine mecca is impeccable. Luckily for me, Denise set an appointment for us to meet Martian's winemaker, Michael Roth.
Michael and I talked about the wine industry as we strolled the vineyard's reservoir. A renegade, he dismisses the ego-driven attitude that is prevalent in the wine industry. He says it's a "caricature of wine itself." His formula: Picking younger grapes yields fewer sugars while styling a unique balance between acid and pH, with as little manipulation as possible. He relies on indigenous yeasts to craft wonderful, food-based wines. I love learning new terms. Food-based wines are served with a meal. You know who will be comin' round this summer to test this new wine with Denise in her backyard?
Seeking a local winery with history as rich as the hills, I reached out to long-time local developer Tom Davidson. Tom is a major advocate for the Winegrowers Alliance in the Santa Rita Appellation. Wow, I didn't know appellation means a specific region legally defining the geographical locale authorizing wineries to identify and market their wines. And boy, did Tom point me in the right direction.
Who would have known I was to meet the pioneer who brought the Pinot Noir grape to the Santa Ynez Valley over 40 years ago? Please meet Richard Sanford, who will be inducted into the Vintners Hall of Fame by the Culinary Institute of America in February 2012.
After graduating from UC Berkeley with a degree in Geography, Richard went straight off to duty in Vietnam in the Navy. During downtime, shipmate Scott Wine (last name an uncanny coincidence) shared a bottle of Volnay that piqued Richard's interest in wine. Post-war, Richard researched French climate charts as far back as 100 years to understand the weather conditions inherent in the Burgundy region.
He then set off to search for a perfect spot just south of the Central Coast in the Transverse Range. This mountain sweep is unusual because it runs east-west -- while all others run north-south -- and the valleys open to the ocean. This allows cool marine air to blow through. Within these mountain walls, Richard found a two-mile stretch that was the perfect climate for Pinot noir grapes. Richard mused, "If you grow grapes in the right place, the wine will grow itself."
Against all odds and with nothing to lose, young Richard schooled himself in viticulture, and with great passion wrangled the support of a few investors. He claimed his stake, and planted French Pinot Noir vines. Back then the local farmers said, "Grapes won't grow here." Even worse, he had to endure the anti-war sentiment of the times. So, he dove in head first, with a divine Tao spirit, into his farm. This was Richard's lifeline, and his quiet re-entry into civilian life. I felt his pain when he said, "It was a lonely place to be."
A few years later and now married, his wife Thekla influenced the farm to become organic. "It was just the right thing to do," extolled Richard. Now, decades later, Richard and Thekla still conduct their business without compromise. Dedicated to organic farming, they are confident in their approach to be responsible when it comes to sustainable agriculture and producing exceptional wines at Alma Rosa Winery.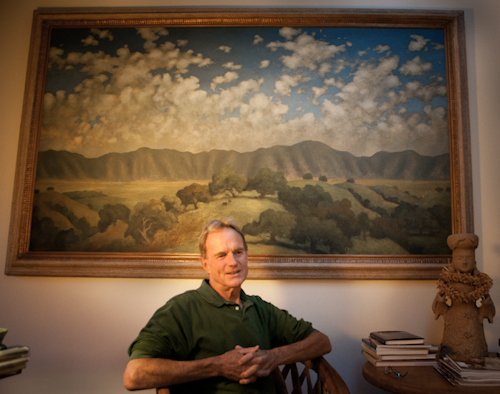 Richard communicated that the global wine community shares no prejudice because, "Wine is a universal language." This spawns an openness among winemakers, who share information freely in an otherwise highly competitive market. How refreshing. Richard's balanced nature imparts its essence throughout the vineyard and all those who enter it. I walked away feeling brightened, knowing I had met a truly authentic and kind individual.
As Richard bids adieu he says, "Say hello to Arianna for me."
Until our next farm visit, let us raise our wine glasses to welcome an enriching 2012.
Happy New Year.........Julie