Bring it Home
Posted: 11/10/11 12:19 PM ET
Just three months ago my 10-month farming internship at Rainbeau Ridge in Westchester County NY came to an end. I am still struck by a quote from Abraham Lincoln that says, "The greatest fine art of the future will be making a comfortable living from a small piece of land." How did he know?
The state of our economy has afforded me great luxuries. At first it was hard to imagine integrating my 25-year career as an LA based entertainment photographer with a total immersion in year-round organic farming. But it happened -- amazingly, beautifully and sometimes with difficulty. But it was always profound. It's allowed me to coin a new phrase, "I've been de-barnacalized." I define this as breaking lifelong routines and attachments while opening myself up to a new horizon of experience. Nothing is lost in this process. It's my way of saying that this love affair with an ineffable something that I found in the garden has brought me to a place in life I wouldn't have expected. This path from my backyard edible garden to interning on a working farm is now unfolding.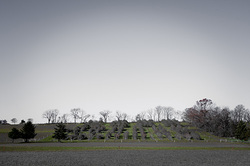 Since leaving the farm last August, I've had a whirlwind of activities. First, I flew to the California central coast to photograph the food and capture the ambiance of a homey new restaurant, Bell Street Farm in Los Alamos. Then flew back to NY to shoot Anthony Bourdain's campaign for his latest TV show, The Layover. Then flew down to the town of Thermal near Palm Springs in Southern California to start a study on soil micro-nutrients, working with visionaries to unlock mysteries of the soil at County Line Harvest Farm. Meanwhile took a week and flew back east again to D.C. to shoot Andrew Zimmern's latest campaign, (cannot disclose, has yet to be announced but will air in Jan).
My current adventure? Driving across America to learn from leading agro-ecologists and farmers and bring the lessons home to try out in our own backyards.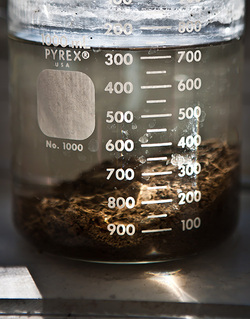 First Stop? The Rodale experimental farm in Kutztown, PA. They are celebrating their 30-year study comparing the difference between organic and conventional crop yields and the impact on soil conditions. They have concluded, "Organic agriculture has the potential to secure a global supply, just as conventional agriculture is today, but with reduced environmental impact."
Someone did the research! The crop yields of organic ag matched the crop yields of conventional methods -- and the organic did better during droughts. AND unlike conventional, organic practices creates healthy soil biology. Conventional farming relies on the chemistry formula of N, P, K ratios (nitrogen, phosphorous, potassium). This method began dominating American agriculture after WW1 and WW2 by the big chemical corporations to make money from excess nitrogen left over from munitions. The big chemical corporations (I fear naming a few) made big money by scaring farmers into using these new fertilizers.
The Rodale Institute has introduced cows on the farm to pasture and poop on the fallow fields. By the way this is not a new form of agriculture, it is an ancient practice since before Roman times. Throughout the next several years, the institute will study the changes in the soil, milk, and health of the cows. They will study what changes occur in the soil nutrients from the cow poop and milk and, specifically, note changes in omega-3, omega-6 and conjugated Linoleic acids.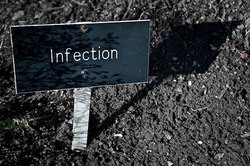 Before I left the farm, I asked Research Agro-ecologist Christine Ziegler Ulsh what can backyard "farmers" take from your studies and apply their gardens? She recommends to plant oats after your harvest as your green manure to enrich the soil and reduce soil erosion. Then come spring time, "roller crimp" the crop by crushing it down so as to use it as a mulch surrounding your new seeds and starts for weed suppression. And to top it off, less work, you need not till the soil, it's all about the No-Till revolution.
Upon departing LA for my farm internship, my garden was thriving although I was afraid I'd "break" the soil. I hired edible landscaper Debbie Brunner to ensure the safety and success of my crops. Good medicine starts with a well-balanced soil. "Let Food Be They Medicine" said the ancient Greek philosopher, Hippocrates, known as the father of medicine.
On the next leg of the journey, about 1,200 miles before me, my next destination, The Land Institute in Salina, Kansas.
Driving across the praises, so until my next stop... Julie Brothers