Can You Please Climb Through Your Window?
Posted: 11/28/11 09:36 AM ET
Crossing the endless, pancake plains of Kansas I could almost feel the pressure of the tectonic plates below give way to the voluptuous vistas of Colorado. The seamless road through the countryside is fertile ground for reflection. As a celebrity photographer for over a quarter century, I was itching to add new "landscape" to my repertoire. Before it was ever a thought to go on sabbatical to intern and live on an organic farm, I instinctively reached out to my cousin, an ecological landscape designer, Jillian Steinberger of The Garden Artisan. Her creed, "How may your outdoor spaces sustain you?"

So about two years ago, while visiting Jillian's demonstration garden in a small town just east of San Francisco, she was uprooting bolted veggies and edible weeds to juice, flowers and all. Jillian asked me if I didn't mind if she gave a thorough hosing of those 5-ft or so stalks (some taller than her), before cracking them over her knee a couple times to feed manageable sized pieces into her industrial juicer. Knowing not all the insects could be washed off by the heavy jet stream from the garden hose, I accepted the reality that I was about to down juiced insects along with the garden greens.
And the taste? Super spicy from ginger and mustard greens. As we smacked our lips and blew invisible fire from our breath, Jillian, savoring the flavors asked, "Can you taste it? The super dense nutrients?" Wow, what a novelty.
Not only could I taste it, but also I was worked into a lather after slowly sipping from the 12-oz Mason jar rimmed with the blood of garden greens and other things. Without realizing it at the time, Jillian was the first catalyst in my desire to "mine new fields."
On the heels of this trip I received an email from one of my dearest friends, Debbie Gelson. Like me, Deb is a foodie and for good reason. She's the daughter of Eugene, who along with brother Bernard created the iconic west coast supermarket chain, Gelson's. As kindred friends often do, we'd fantasize about creating food-oriented projects together, though secretly knowing it wasn't going to happen in this lifetime. So this particular email contained a special "Second Act" Yahoo link. ("Second Act" is an online video about people who start second careers.) This was THE catalyst that shoved me out the window. I took a sabbatical from L.A. and urban life as I knew it. The idea of working bi-coastal was familiar, as I had done it before. Though this time, instead of living in NYC, I was to live and intern on an organic farm only a stones-throw from the city. Close enough for the just-in-case emergency evacuation.
No exit strategy necessary. Under the superb direction of Sir Isaac Jahns, the head gardener at Rainbeau Ridge, I was learning at an accelerated rate. With notebook in hand, I jotted down his every word and continued my studies late into the night. Four months into my internship, Isaac was off to a new farm in the west. I now had to step up to the plate and take it on! From ordering seeds and mapping crops, to midwifing goat births and making goat cheese, the sink-or-swim phenom became my daily grind.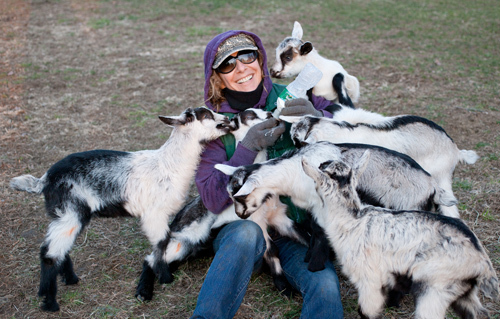 My roots started to take a strong hold. Though panic did set in daily, especially with the onslaught of that springs' bug infestation. My near daily phone calls to Gerald Giordano, my contact at the Cornell Garden Extension Cooperative, became my life raft. His guidance assured the survival of the crops, including myself. Grubs, mealy bugs, bean aphids, flea and tortoise beetles (just to name a few) were on the attack, not to mention a Late Blight scare early in the season. I was on the verge of losing over 300 tomato starts to this disease, this little fungus that brought down a country during Ireland's potato famine.
Luckily we had a "doctor's visit" from legendary farmer Annie Farrell whose prescription remedied the condition. Action packed Annie spearheads Millstone Farm Charitable Fund. I also made sure I was learning best organic farming practices, so on my days off, I volunteered at Stone Barns Center for Food and Agriculture. Their lead farmer is Jack Algiers. His brilliance and guidance are forever priceless. I couldn't get enough; and so, total immersion became a luxury.
So back to the journey. We've landed at the Grant Family Farms, 2,000 acres in Wellington, Co. We're talk'n the second largest family-run organic farm west of the Mississippi. They're partner in Wwoofing(World Wide Opportunities on Organic Farms), offering internships and volunteer opportunities. And guess who runs these programs for Mr. Grant and his family? Why, Sir Isaac Jahns, who was also raised on a mere 1,000-acre farm himself.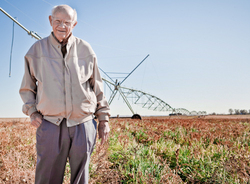 Mr. Grant Sr., who's topping 85 years, has a lot on his plate. It's not just about work'n his 4-mile wide by 10-mile long farm. He strongly believes that education is key to fundamental changes in attitudes about food and farming. He and his family believe in the importance of training a new generation of farmers and informing environmentally and socially aware consumers. They build awareness through the farms' Community-Supported Agriculture program. With a membership of 5,000 families it's the largest CSA in America.
Additionally, Mr. Grant is challenged by urban developers who see big dollar signs in his property. Even though he rightfully defends the code of the west, "The Right To Farm Act," which is agricultural land preservation created from conservation easements, land that is donated and designated for ag purposes in perpetuity, he still faces the threat of sprawling development. So Mr. Grant and his team actively participate in their hood to educate local public officials, the community and influence regional policy.
So, you might think that this is a heck of a lot on one farmers' plate. But that's not the end of it. Labor issues are the BIGGEST problem. A quagmire of government hula-hoops in combo with a twisted wage formula would baffle and financially wreck havoc on any business. This is killing the industry. As with any farm this size, the family is saddled with the burden of watching a much too large percentage of their crops go to waste in their fields. There just is not enough help to harvest. One out of seven in our country rely onfood stamps. Insane.
For whom does the bells toll at your local farmers' market? It tolls for all of us. Rally your neighbors! Know and support thy LOCAL farmer! Remember, no great farmer, no great food. This is the essential ingredient needed to fill your breakfast, lunch and dinner plate.
Hear ye, hear ye. Let's raise our plates to these farmers and to the growing awareness...
Julie