Clif Bar... a Tour of the White Road
Posted: 08/28/12 03:37 PM ET
Climbing to reach the Erickson family farm, high in the Mayacamas Mountain range, in an ancient redwood forest, the road narrows. It was hard to imagine a farm through the trees, though around another curve a spectacular view of the Pope Valley near Napa appeared before us. Unexpected, it took our breath away. We arrived in the magic of the setting, an ideal stage to interview Gary and Kit Erickson, owners of Clif Bar.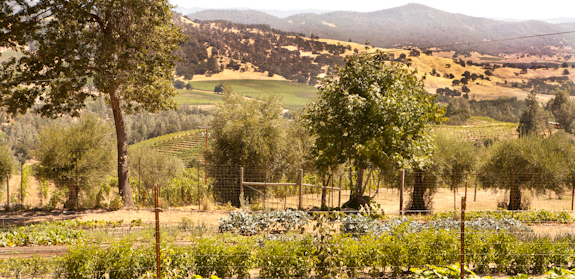 It was a little too quiet though, as we looked for someone to direct us. We walked about incognito, till finding Kit's brother Brad, Farm Manager. Clearly not expecting us, he called Kit who had just left for town, then gave us a quick tour, including the garden, which supplies a CSA for 25 people.
Since Clif Bar's commitment to organic ingredients and sustainability was a prime topic for our interview, the farm seemed the perfect setting. It was not to be though as we discovered that a communications mix-up had Gary, Kit and their publicist waiting at Velo Vino, their winery tasting room in St. Helena, a half hour away. Ugggggggh, back down the mountain we went, wondering if their wine was the subject they really wanted to discuss.
A little flustered, we met Gary & Kit in the "tasting garden" of Velo Vino, but their innate graciousness worked its magic, as the enormity of their story unfolded. Chronicled in his book, Raising the Bar, the emotional, philosophic and business story of Clif Bar is deeply personal, yet resonates universal truths on the nature of work, the nature of life and how they relate to the entrepreneurial spirit.
Major turning points for the company include Gary's decision to turn down a 120 million dollar offer in order to respond to personal values of what should inspire him, a company and their role in the community. He walked away hours before signing and paradoxically "....found a new freedom," in spite of the huge gamble.
This freedom became an outlet to codify his core beliefs and to impart them to the company. As per Kit: "We tend to march to our own drummer," as represented in a second turning point, deciding to use primarily organic ingredients. While natural, minimally processed foods had already created a competitive advantage for Clif Bar, Kit's motivation to switch to sourcing organics was a significant risk at a time when the movement was just gaining ground.
"Our instinct said this was the right thing to do," Gary notes, "though the change cost us millions to initiate."
The complexities of going organic unfolded as this mission began a monumental transition. A higher cost of locating and managing the organic supply, higher cost for ingredients, certifications and the necessity to fully segregate organic components were a few of the hurdles. The gamble paid off with the first organic bar launched the following year to an immediate increase in sales.
Since then, Clif Bar has bought 250 million pounds of organic ingredients. To ensure quality, they develop close relationships with their farmer/suppliers both domestically and internationally. They help farms to transition to organics through advisory programs and by purchasing at organics prices ahead of the two-year certification process. Overseas, Clif Bar encourages fair trade practices and has committed to Rainforest Alliance Certification, ensuring that 100 percent of the cocoa ingredients they use are sourced from Rainforest Alliance certified farms.
We were drawn into the complexity of their mission as Gary detailed other outreach programs and touched on subjects we've explored in other stories. By funding the non-profit Seed Matters, Clif Bar is taking action to create a "universal link to bio-diversity," that conserves organic seed systems and crop diversity. In discussing the 1970's politically motivated legislation that allow seed varieties to be patented, Gary's reaction is heated: "That's like patenting life, like patenting water," he states referring to the practice of robbing growers of the ability to harvest the seed from their own crops, "....forcing growers to buy from conglomerates like Monsanto."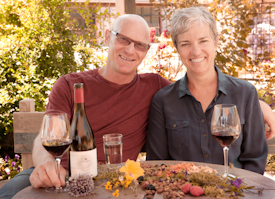 Another recent Clif Bar initiative, White Road Investments, helps fund young companies with shared values, interested in using the Clif Bar multiple bottom line business model of: Sustaining Our Brand, Sustaining Our Business, Sustaining Our People, Sustaining Our Community and Sustaining The Planet. Named after the intimate, white roads on European Michelin maps, Gary explains: "The white roads are not the fastest way to get from Point A to Point B, that's the red roads. Why run a company on just the red roads... it's no fun, not as beautiful and it doesn't give back to the community." To date, White Roads has supported 10 progressive start-ups including Wild Planet Foods, The Honest Kitchen and Big Tree Farms.
After this profound memoir, personally told, we relaxed in the shade to finally touch on the subject of wine.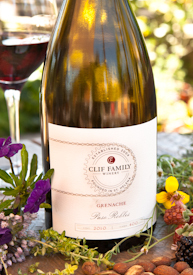 Opening a bottle of Clif Family Grenache, the wine did its own delectable sales job with no comment from the makers. We later recounted the interview and shared a bottle of Kit's Killer Cab with old friends and hosts in Portland. We marveled at its smoothness and complexity, reflecting the Erickson's essence.
Here's toasting Clif Bar on its 20th anniversary for embodying the white road philosophy and developing their own personal and corporate sustainability while benefiting consumers, employees, the community and the planet.
Cheers,
Julie Brothers
Lee Glenn