Ed Hume, Seeds of Knowledge
Posted: 02/04/13 06:32 PM ET
Co-authored with Lee Glenn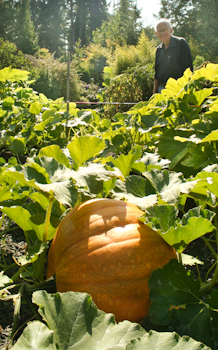 Oooops, forgot an interview from while Lee's away at sea... in a holding pattern in blue collar Tacoma, Wash. Daily summer showers don't keep me indoors and the sweet scent of rain brings earthy aroma therapy to the town. Rain, sleet, snow during my farm internship, "debarniclized" my urbanite self from the fear of going outside during extreme weather.
Scouting for the Tacoma unusual, I came across a shop that could have been in NYC's west village, an artisan garden shop catering to the garden elite. Akin to a gourmet spice library for the gourmand, shelves of organic soils and amendments were their forte. The Gardensphere even sells large bags of organic chicken feed... strange, as I had missed the morning crowing of roosters in the hood.
One long rack brimmed with packets of Territory Seeds, a company I knew. This unleashed a floodgate of memories, of countless hours pouring over seed catalogues to prepare for spring planting. Then I came upon a smaller specialty rack featuring Ed Hume Seeds. Since most seed packets capture a certain magic, I was intrigued by the unexceptional packaging.
"Who is Ed Hume," I asked the girl behind the counter.
"Ed's a local," she replied, "...his seed company has been around for over 30 years and he hosts a local TV gardening show." For over 45 years it turns out, it's been the longest continuously running gardening show in the world featuring the same host. Gardening in America, reaches 50 millions households in the U.S. and Japan.
Ed's specialty is the best seeds for short and cool seasons. The choices are inspired by the Pacific Northwest, but he ships to similar climates around the world. As the negative aspects of GMO started to become apparent, he stopped carrying GMO seeds... believing GMO was antithetical to natural processes.
That sold me... and Ed was only an hour drive from Tacoma. I called to schedule an interview.
Eighty-year-old gardening guru Ed greeted me at his educational garden with an exuberant vitality garnered from outdoor exercise, nutrient dense veggies and years of hosting his TV series. The garden entry is a tranquil, fung shui, Zen design with a forked path leading to raised vegetable beds around a circular garden court. The court is surrounded by wishing wells and trellises laden with flowers and fruits. The other fork leads to a whimsical Alice in Wonderland fairlytale-scape, before splintering off into other paths that meander, lead into a maze, and then meet back up again.
To follow his lead, Monthly Garden Projects appear on his website. Ed is prolific and has it down. If you were to emulate anyone, he is a master to follow.
After hours in his gardens, we recharge in the kitchen with hot tea and fruits. Ed tells me his company donates a million dollars worth of seed per year to third world countries, high schools, colleges and botany classes... everything that is returned from stores. Since his name is on the package, his standards are high, selling only proven winners of flowers, veggies and fruits from the latest season. He works with 25 farms that produce seeds ranging from heirlooms to hybrids.
Though most of his seeds are nonorganic, he has been ramping up his organic collection to mirror demand. After 61 years in the business, I want to know where he thinks the market is going. Ed notes there is has been a spike in backyard organic edible gardening, with a decrease in typical garden size, but an increase of growing in large pots.
On our tour through the warehouse and seed packaging plant, Ed says he "...likes to keep things simple." His main advice to home gardeners: "Step back and think of the logical answer. Look at it from a practical point of view. Practical has everything to do with the success of gardening."
Leaving Ed's place, I have a gifted assortment of seeds for my backyard gardening. I've since started all five tomato varieties, with a germination rate of well over 98 percent. I potted them up and drug them out of the garage into the desert sun every morning and back again every night to protect them from the desert chill. After holding on to them for as long as I could, I had to face giving away over 400 tomato seedlings. With nighttime temperatures in the 30s in my desert neck of the woods, I had to find an owner with a hoop house.
An hour away, I found a welcoming backyard farmer who adopted them into a loving home. Julie Barlow understood my emphatic instructions to talk and sing to them and happily assumed her new crop. During the spring and summer months, she prides herself on selling from her front porch farm stand and I can feel her glow as she recounts that people and chefs travel for miles to buy her tomatoes by the boxful.
I know they've found a good home.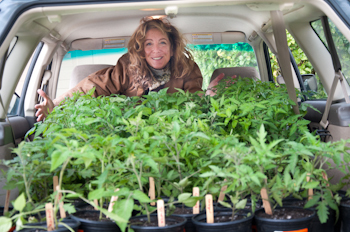 ...and the 20 that I couldn't resist keeping. They still live on a tarp in the driveway but are flowering voraciously and the Stupice is already setting fruit. I'm guessing that in March, Lee and I will start harvesting our first crop of driveway tomatos... sure beats growing in the east where they would still be just a packet of seeds.
P.S. Photo of Ed by Kelsea Hume. I had a hard drive crash and lost all the beautiful photos of Ed and his gardens. Painful! Hence the filler imagery.