Food You Can Trust From Luscher Farm in Lake Oswego
Posted: 10/08/12 02:22 PM ET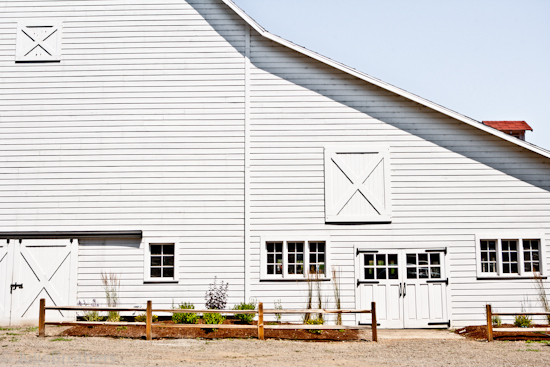 Co-authored with Lee Glenn
Our six week, western states, Farm To Fork Across America tour continues to lead us to remarkable places. Deep in Oregon's formidable countryside, we travel from forest tunnel to forest tunnel, weaving our way on narrow highways. The light sneaks in where it can, highlighting the textured air... dense, rich, smelling of the ancient. We become part of this, inhaling the forest breath, bonding with an inherent trust in the natural world.
Along the way, an unexpected but welcome flow of suggestions has introduced more innovative people to meet and interview... people who are making a difference in the quality of our food supply. It is both thrilling and frustrating to expand our list. An already full schedule means daily meetings and then back on the road for the next appointment. It's exhausting and yet leaves us wanting more.
Julie's tendency is to add to the list. Lee maintains the reality check of time and time to write. This time though, we stretch the boundaries to follow up on a must-see suggestion from our interview with Chris at Oregon Tilth... a 100-acre collective backyard, Luscher Farm in Lake Oswego, just outside Portland.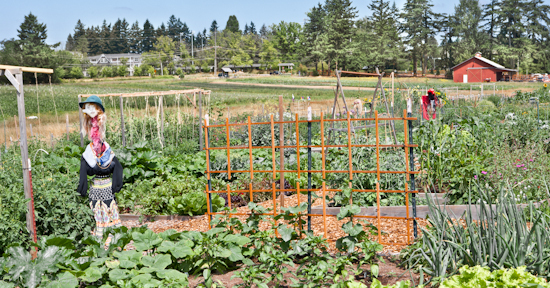 Envision the nucleus: an organic demonstration garden and teaching facility maintained by Oregon Tilth. Spiraling outward, a living flower museum, 180 community garden plots, then indigenous insectaries as a sweet wrapper. At one corner, the 12-acre 47th Avenue Farm leased to farmer Laura Masterson supplies a 300-member CSA and the local food bank.
All the more profound is the fact that Luscher Farm is owned and run by the Lake Oswego Department of Parks and Recreation for the benefit of its citizens. Director Jan Wertz understands the multi-faceted impact this farm has on their city... education in sustainable practices, a real-time connection to the land, local food production, preservation of rural open space within a rapidly suburbanizing region and the opportunity for local food security through a trusted source. At Luscher, these factors outweigh development pressure, or even the need for more tennis and basketball courts.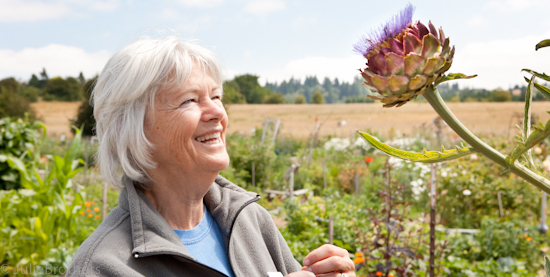 We're greeted by Karen Davis, city-farm coordinator, for the tour of the property. The original 47-acre dairy farm was bequeathed to the city as a life estate by farmer Rudy Luscher. On the property was the historic white wooden dairy barn and Rudy's circa-1900 farmhouse complete with period finishes, country kitchen and furnishings. Now the farm offices, it retains the family look of Rudy's residence, family pictures and all.
Luscher has local partners who provide financial support, innovative programs and volunteer labor to work the farm. Oregon Tilth's organic demonstration garden is a showcase for organic farming methods "in a living classroom." It includes compact, innovative straw bale gardening, ideal for places with limited space. Their educational outreach includes a constant stream of workshops throughout the seasons.
The Rogerson Clematic Collection is a two-and-a-half-acre botanical showcase of everything Clematis, home of over seven hundred species and cultivators landscaped as a living flower museum. Arbors and archways are enveloped in clematis, spilling floral tapestry to be collected in one colorful pool after another along the pathways. The personal work of a midwestern professor, the collection includes the unusual Pioneer Rose, brought west by pioneers through cuttings kept alive in potatoes... an effort to bring "something pretty from home."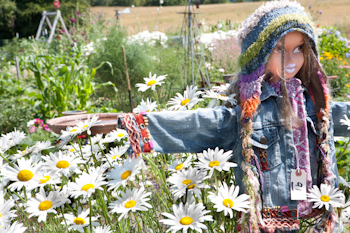 Guarded by 92 whimsical, handmade scarecrows, the 180 plot community garden is a personal theatre of expression. They oversee a committed all-organic exercise... a prescription that Karen say is "easy to police... and is in fact, self-policing." Originally only 26 plots, "they thought they had enough." Now with a long waiting list for plots, the program is a testament to the innate desire to connect to the earth, to grow nutritious food and to cultivate trust.
Through the unique combination of city-provided land and partner-provided funding, programs and labor, Lake Oswego has intuitively actualized a sustainable community farming model for other cities to follow. This city gets the importance of retaining its agricultural heritage, securing the legacy at the front door of its suburban inhabitants. Testimony to its commitment, the community has purchased adjacent rural property to increase the size of the farm to 100 acres, expanding a valuable treasure.
For a vista of the entire farm, Karen takes us on a climb to its insectory-lined periphery laced with wild blackberry bushes. The ripest of the berries project their stems in the afternoon sun to show off glistening nodes of sweetness begging to be picked... bubbles of warm nectar, a succulent taste of the untamed.
In a time where trust in the big-ag business is at an all-time low, Luscher provides a connection that evokes primal security. Here, personal growers, educators, certifiers, farmers and CSA members come together in a common cause... restoring trust with their own community backyard, finding the satisfaction of participation in the food supply and by knowing their local grower. At the end of the day, this connection and the knowledge that our food is uncompromised is what truly sustains us.