A Reawakening -- The Fruits Of Your Labor
Posted: 08/03/12 11:23 AM ET
As we meandered through lush rolling farmlands from Santa Cruz to the edge of San Francisco, edible gardens seemed to pop up where there used to be front lawns and rooftops. We wanted to stop for a closer look though dared not as Mark Twain's sentiment was completely appropriate: "The coldest winter I ever spent was the summer I spent in San Francisco."
In this region, just like most others in the country, the cold doesn't seem to stop connectivity to ones garden. It seems to be an essential desire, to reap the rewards from the fruit of one's direct labor... a desire in a major reawakening, growing and growing fast. Are people hungry for it because the modern world is so impersonal, is there an underlying economic frustration, is the nurturing of homegrown foods a holistic grounding of sorts? Maybe all of the above, and certainly with economic and marketing ramifications that are being recognized at all levels of business.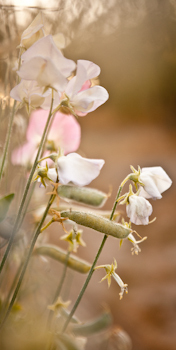 So you can imagine that after reading the Sunday New York Times Magazine article last April, about the launch of Williams-Sonoma's new Agrarian line we had to find out who was the mastermind behind tapping into this movement on a national level. For a three billion dollar publicly traded company to take a risk and leap into the business of renewing the agrarian lifestyle, is a gutsy retrofit for the modern world. So we placed a call to the company and learned of VP of Merchandising, Allison O'Connor.
Anxious to see what kind of woman would have the conviction and be so convincing as to lay the foundation of this new brand, we met with Allison in William-Sonoma's bay-side headquarters in San Francisco. Her business savvy and creativity was already steeped in a rich history of fashion marketing as Vice President of Merchandising for Abercrombie, a kids-store division of Abercrombie & Fitch and as Vice president of Merchandising and Design for the Portland-catalog company Hanna Andersson. Fortuitously, she was also a lifetime gardener in the fertile Pacific Northwest and launched a multi-store garden center, Poppy Box Gardens.
With this experience, Allison had the ear of Williams-Sonoma executives to discuss the beauty and meaning of the word agrarian, coupled with its potential in a changing marketplace. This lead to a comprehensive pitch, detailing the many aspects of what a Williams-Sonoma Agrarian line could be, including products and education for those seeking to adapt a healthy lifestyle. The company saw the light and the potential of this new addition. From there, it was a natural progression to develop the product line and the market strategy into an evolving relationship to the world of food, starting from seed, tending to growth, culminating in harvest and the home cooked meal.
Allison shared the history of food pioneer, Chuck Williams, founder of Williams-Sonoma and no stranger to innovation. Now in his 90's, he deeply understands the elemental connection between people, the food they eat, its preparation and the various products that it takes to make it all happen. In his teens during the depression, he worked on a date farm. He loved to cook, learning from his grandmother who owned a restaurant. He drew his inspiration from the fresh and bountiful produce he found in his hometown of Sonoma and created a product line that reflected the joy of participating in providing a nourishing life force.
Allison is dedicated to connecting the dots from your backyard to your kitchen, and is paving the way for busy urbanites and suburbanites to share the agrarian impulse. From starting your own seeds to making your own butter, from canning to composting, from beekeeping to mushroom logs, from mobile chicken coops to vertical gardening, from Kombucha brewing to mustard making kits, the product lines are supported by a wealth of education on their website to ensure success... and the list continues to grow.
"Slowing down is relevant to what's happening in the world today," Allison maintains. In support, Agrarian attempts to get personal with its products and is responding to people's increased interest in the source of their food. The site attempts to "be respectful of local and regional influences" and builds relationships with smaller suppliers through "Meet the Makers" programs and Artisan Markets held at Williams-Sonoma stores. Phase two of the program intends to further regionalize offerings in categories such as seeds based on a geographic focus.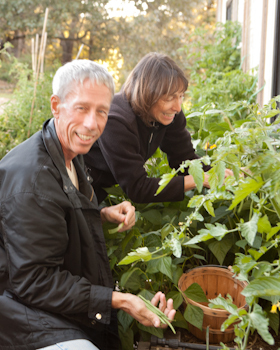 The garden is a road best travelled slowly and nature a tuning fork to the indispensable within ourselves. Allison and Williams-Sonoma recognize that edible gardening in particular, is a low investment for such a high reward and their program attempts to de-mystify nature for the benefit of their clientele. Close-up and personal, throughout the seasons, they are helping provide a lens through which to participate in the everyday treasures that grow from the soil.
As if to confirm this magic, our next stop was Sebastopol, California and the home garden of old friends, hosts for our interviews in the rich agrarian counties of Napa, Sonoma and Santa Rosa. Only the loss of light brought us into their kitchen after photographing the flower and vegetable arrays... but also inside to relish a dinner of freshly picked greens, local cheeses and regional Pinot Noir. Allison's point entirely.
To our dear friends Linda and Jeff and their beautiful gardens,
Julie Brothers

Lee Glenn